Mobile Tyre Fitting in Walthamstow E17
Mobile Tyre Fitting Walthamstow
My name is Rashid and my company is East London Tyres, your local `Mobile tyre Service`.
We provide our service in all of Waltham Forest, including Chingford, Highams Park, Leyton and Leytonstone.
When you call East London Tyres we will do our best to assist you to resolve any tyre related issues.
No one wants to sit in a waiting room at a tyre garage when they could use their precious time on other things.
We will come to your location to fit tyres and carry out puncture repairs.
VW Campervan Tyres
A recent job that we completed in E17 was for our customers VW Campervan.
Customer called us as they were having trouble sourcing a set of 185/14 tyres, and as they were planning a trip they wanted to get it done urgently.
I informed them that the tyres were available and that i could have them for the following day if need be.
The customer was relieved to hear this and asked me to book the job for the following day.
We arranged a time and a location which was convenient for the customer and where there was ample room.
On a day to day basis we are working on the most common vehicles on the road, so its nice to work on the classic VW campervan.
The old tyres had sufficient tread but were perishing due to age, this is very common for campervan and especially for caravans.
These vehicles sit around for months on end, when this happens the rubber begins to harden and start to crack.
Caravan and campervan tyres should be changed after 5 years or earlier depending on their condition.
I fitted and balanced the tyres and then loaded the old tyres in the van for safe disposal.
Whatever the vehicle, if you`re looking for a friendly and professional mobile tyre service in Walthamstow and surrounding areas then please contact us for a quote.
Mob: 07966558652
Tel: 020 3488 5764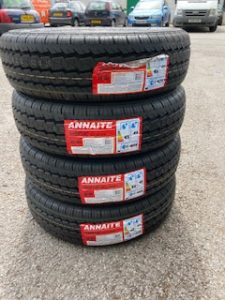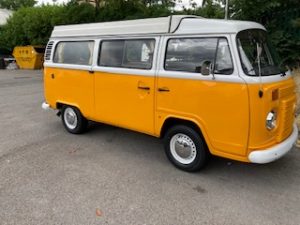 .