Mobile Tyre Fitting Epping, Essex
Same day tyre fitting in Epping.
East London Tyres provide a same day tyre service in many lcations in Essex, including, Epping, Waltham Abbey, Chigwell, Loughton and surrounding areas. We come to your location, Home, Work or Roadside to fit new tyres, carry out puncture repairs and wheel balancing.
Many vehicles no longer have a spare wheel, which can be very upsetting to many motorists who are adept at changing the wheel in the event of an emergency, but for many motorists whose vehicle has a flat tyre they will need assistance to get mobile again, this is where a service such as ours comes in handy.
Once we have been contacted by a customer, we will get the relevant information to proceed, i.e, tyre size, location, any wheel damage, locking wheel nut key (if locking nut is fitted), when we have all the details we will offer a quote and time. We carry many popular sizes on our vans, usually we have what the customer needs, otherwise we will source from one of our suppliers.
We can provide budget options in most popular sizes, or depending on our customers preference and availability we can source mid range and premium brands, i.e, Pirelli, Continental, Dunlop, Michelin, Kumho, Avon and many more.
Depending on the urgency of the situation we will provide a same day service, but if the tyre is not available, then it will be the following day, if the customer is stranded at the roadside then we will endeavour to assist as speedily as possible.
We have many enquiries in the town of Epping and many happy customers, will are friendly and professional, tyre fitting will include replacing the valve where necessary, wheel balancing, safe disposal and safe disposal of any scrap.
For a same day tyre fitting service in Epping, Essex call us on mob: 07966558652 or tel: 020 3868 1898.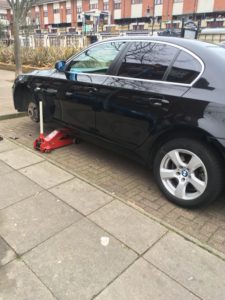 Blog Post Epping #1
205/60/16 Tyres fitted to Renault Scenic in CM16
Customer suffered a 2 tyre blow out on their Renault Scenic, they managed to get recovery back to their home in CM16. The following day they called us to have 2 new tyres fitted, after getting the tyre details, we gave a quote which was accepted by our customer, they wanted the job done same day, which is what we normally try to do as many people rely on their car.
We collected the tyres and headed to the customers home in Epping, once their we inspected the car. Both of the near side tyres had been damaged, we advised the customer that best practice dictates that when fitting 2 new tyres have them on the rear, our customer was happy with this, so we moved one of the older tyes to the front (after balancing). The 2 new tyres could now be fitted on the rears. After removing the old tyres we clean the wheel and fit a new valave, and after mounting a new tyre we check the balance before fitting back onto the car.
After fitting we take away the old tyres for safe recycling.